Trying to find translated Indian literature is like trying to find out what you don't know: it's an ocean, and you can't search for items you don't know. So I decided to put this site up, to celebrate literary translations.
It's a start, and it'll grow in whatever direction it wants to: a magazine, a directory of translations, and a place for literary translators.
---
Know any translated book?
If you know of a literary work translated from an Indian language into English, or translated from one Indian language to another Indian language, then tell me. I will put it up on this site. Please send me as little as you have, or as much as you can, on the book. Amazon link, book review links, author interviews are useful.
Please email me to: raj@indianlit.org or fill out the form below:
---
About me
I write on my blog here. See my detailed background below.
---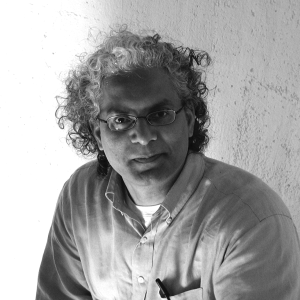 Raj Karamchedu is founder of Riffiti; an entrepreneur in Silicon Valley; a translator of Telugu poetry; a novelist and the publisher of Saaranga Books.
Raj was born and raised in Old City, Hyderabad in India. He moved to the U.S. at the age of 25 to study artificial neural networks, later moving to Silicon Valley to work for high technology companies including Cadence Design Systems and Legend Silicon. At Legend he was the Chief Operating Officer and Vice President of Product Management, until the company closed down in 2012. In mid-2014 he was briefly at Broadcom.
Fiction
In September 2014, he published his first novel, All Things Unforgiven.
Translation
A selection of his poetry translations appeared in The Oxford Anthology of Telugu Dalit Poems (Oxford University Press, 2016). See more details here: My Translations in The Oxford India Anthology of Telugu Dalit Writing.
The Caravan magazine published, in October 2014, translations done by Raj of three  Telugu Poets: Siva Reddy, Varavara Rao and Ismail.
Non-fiction
Raj is the author of The Disconnect Patterns (Saaranga, 2012), a nonfiction book examining managing product teams between China and the United States.
Raj's first book, It's Not About the Technology (Springer, 2005) discussed how relations between marketing and engineering teams influence the execution in a high technology company.
Publishing
Noticing there was a dearth of books dealing with modern Telugu life and literary criticism, he launched a publishing house, Saaranga Books, in 2010.
Saaranga has published works such as Tanhayi, which gained fame as web's first Telugu literary novel; Aneka, which the literary critics described as a poetic document of the post-2000 Telugu social and cultural life; and Sufi Cheppina Katha, a Telugu translation of the Kerala Sahitya Akademi Award winning novel. In 2016, the Telugu translation Sufi Cheppina Katha also was awarded the Central Sahitya Akademi Award.
To contact Raj on all matters of this Indian Literature in Translation project, please send email to raj@indianlit.org.